Leave a great impression. Mulch and Decorative Gravel adds value and style to any landsape project!
A great way to improve your next landscape project is to include mulch and river rock. River Rock is more expensive than mulch but it lasts longer. That's because mulch needs to be re-applied on an annual basis.
If you are cost conscious, then wood mulch is the way to go. Wood mulch covers a greater area for the money spent. While wood mulch adds needed organic matter and minerals to the soil and doesn't need to be taken out when you change your gardens, it must be reapplied each year.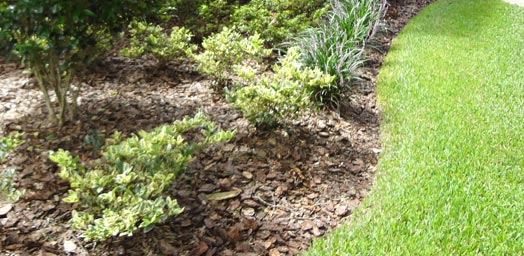 Do you have an area with a lot of foot traffic? River rocks work great for that. Since the rocks are small, they make walking on it much easier.
You could use them together to give your garden that extra spark. Wood much will give your garden the natural look, and provide the water retention and drainage your plants will need to remain healthy – while the river rocks would add color and texture to the over all project. Can you say beautiful?
Mulch
Mulch comes in red, black, gold and natural colors
Pine Bark
Cypress
Pine Straw
Gravel
Gravel comes in many different styles and colors. Below is listed some of the more popular ones:
River Rock
Mexican Beach Pebbles
Granite
Limestone
Marble Chips
Crushed Sea Shell
Other Materials
There are other landscaping materials used to bring your yard alive:
Potting Soil
Sand
Top Soil